120363

Get 15% off shorts, tanks and tees with purchase of any full price shoe
Buy any full-priced shoe on brooksrunning.com or brooksrunning.ca between 9pm PST 03/31/2023 and 9pm PST 04/30/2023 and receive fifteen percent (15%) off on up to ten (10) Brooks shorts, tank tops, and t-shirts purchased in the same transaction. Discount excludes licensed apparel. Discount is automatically applied during Checkout. While supplies last. No rainchecks. Cannot be combined with other offers, discounts, or coupons. Valid on orders shipped to the United States and Canada only. Past purchases do not apply. See here for additional terms and details, including any eligibility restrictions.
Select Color
008 - Black/Grey/Red
Free shipping and returns, always.
Free shipping & returns, always.
Brooks Run Happy Promise
Our goal is to make each run better than the last. The gear we offer should improve your miles. So if you're not happy with a product, then we're not happy either.
90-day trial run — our guarantee
We think you'll love our products because thousands of other runners already do. So take our gear for a 90-day test run. If you don't love it, return it for free. Really.
Our return policy
If you buy gear from us today, you have 90 days to wear it all you want and still return it if you don't love it — no shipping or re‐stocking fee. If your gear is unworn and still in original packaging, you have one year to return it to us.
Free standard shipping
All orders ship free with ground shipping. If you spend over $100, 2-day shipping is also on us. Shipping is always free for returns.
Preorder
Conquer any trail in the Cascadia 16. This women's trail running shoe offers all-terrain stability and durable protection, with softer and lighter cushioning than before to ensure a continuously smooth ride.
Best for…
Trail running
All-terrain stability
Traction
Rock & root protection
Features
Enhanced adaptability
Flexible protection
Softer cushioning
Experience
Experience type
All Brooks shoes have cushioning, but how it feels can vary across categories and individual shoe styles. For example, the Levitate and Revel, both within the Energize category, offer different levels of of springy cushioning: max spring in the Levitate, more balanced in the Revel. What you choose is totally up to your preference, as each one delivers lab- and runner-tested performance for every mile of your run.

Still not sure if this shoe is the right experience for you?
Try our Shoe Finder
Cushion
Speed
Energize
Trail
Experience level
Experience level
Within any experience category, different shoes have varying levels of that experience: some may have a little less, while others have an amplified experience. For example, within Cushion, the Ghost offers soft, balanced cushioning whereas the Glycerin provides super soft cushioning.
Light Trail
Mountain Trail
Ultra Trail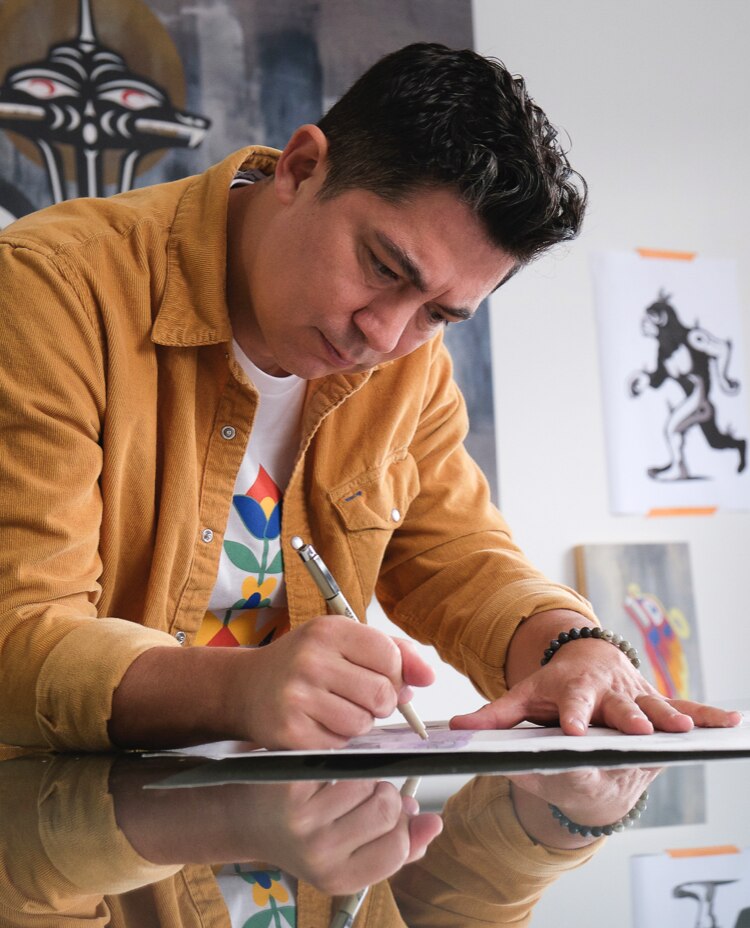 The Sasquatch Collection by Louie Gong (Nooksack)
Meet the Artist Louie Gong (Nooksack)
The collection was inspired by artist, runner, and storyteller Louie Gong (Nooksack) and his interpretation of Sasquatch. Louie designed the collection to inspire others to celebrate nature while protecting and respecting Native land.  
Shop the Collection
Louie Gong's (Nooksack) interpretation of Sasquatch  
The Sasquatch Collection by Louie Gong recognizes the connection between people and the land we run on through designs that feature Indigenous art and the natural history of the Northwest. In Louie's interpretation, Sasquatch is a shapeshifter that protects the natural environment and reveals itself only to those who demonstrate respect for the land. 
Learn more  
Run with respect 
Brooks has partnered with the Snoqualmie Tribe Ancestral Lands Movement to learn how we can recreate respectfully and mindfully on Native land. When we protect the land and enter it from a mindset centered in connection, rather than a conquest, it can be enjoyed for generations to come.
Read More
Tread mindfully into nature
Coast Salish Design
Trigon and crescent details
Louie Gong (Nooksack) incorporates trigon and crescent details, core elements of Coast Salish design, an art unique to the Native peoples of the Pacific Northwest Coast.
In Step With Nature
Native plants design
The upper features plants native to the Pacific Northwest, including big leaf maple, licorice fern, and huckleberries.
A Big Surprise
Hidden Sasquatch
Louie Gong's Sasquatch is a shapeshifter who only reveals himself to those who treat the land with respect. Peek inside the left sock liner to find the hidden Sasquatch.