120363

Select Colour
SALE 647 - Pink/Flambe/Cobalt
Preorder
Explore new trails
Cascadia 17
Adaptable and protective to help you tackle even the most technical terrain.
Conquer any trail in the Cascadia 16. This women's trail running shoe offers all-terrain stability and durable protection, with softer and lighter cushioning than before to ensure a continuously smooth ride.
Best for…
Trail running

All-terrain stability

Traction

Rock & root protection
Features
Enhanced adaptability
Flexible protection
Softer cushioning

Trail
Cushion level
Cushion level
Standard Cushioning
Shoes with standard cushioning provide a just-right blend of softness and responsiveness that creates a comfortable platform for your run or walk.
More Cushioning
With more softness than our standard cushioning, shoes with more cushioning may be the right choice if you like your run or walk on the soft side.
Most Cushioning
If you're looking for maximum softness and enjoy features such as a plush feel under your feet and protection from impact, try shoes with the most cushioning.
Standard Cushioning

More Cushioning

Most Cushioning
Support level
Support Guide
Neutral
Brooks shoes that are designated "neutral" are designed to deliver comfort and durability for a neutral stride — one that doesn't need additional support. 
Support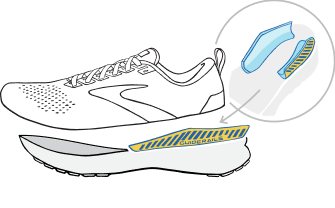 Brooks shoes with the "GTS" designation feature our Go-To-Support, which helps keep runners in their natural stride, even when they tire. Think of bumpers in a bowling lane!
Maximum Support
To provide maximum support, we pair our go-to-support (GTS) with additional features such as an extra wide base to enhance stability.
You may benefit from extra support if:
Your knees move inward or touch when you do a simple squat 
You frequently get the same injury
You pronate or supinate
Your toes point in or out when you walk
Neutral

Support

Maximum support
Smoother, lighter, and landscape-inspired.
All-Terrain Comfort
Enhanced Adaptability
New midsole and outsole construction lets the shoe mould easily to the ground, improving the stable ride so hiking or running feels more like celebrating.
Rock Solid Foundation
Flexible protection
Updated Ballistic Rock Shield protects against pebbles and debris while also adapting more easily to uneven terrain so you can reach new heights.
Softer, Lighter Feel
Soft cushioning
Reach peak appreciation for our new DNA LOFT v2 midsole - it makes the Cascadia 16 cushioning 5% softer and 20% lighter than the Cascadia 15.
Built trail-runner tough
Take on any trail in the Cascadia 16 - the trail shoe built for runners who want to explore any path, while still feeling protected and stable on ever-changing terrain.
"This Cascadia has it all. It combines features of previous versions into a complete vehicle of runability. The comfort and versatility on all types of terrain is the best I've experienced!"
-Scott Jurek, Trail-running legend