110376
Select Colour
SALE 411 - Titan/Peacoat/Nightlife
Preorder
Conquer any trail in the Cascadia 16. This men's trail running shoe offers all-terrain stability and durable protection, with cushioning that is softer and lighter than before, to ensure a continuously smooth ride.
Best for…
Trail running
All-terrain stability
Traction
Rock & root protection
Features
Enhanced adaptability
Flexible protection
Softer cushioning
Experience
Experience type
All Brooks shoes have cushioning, but how it feels can vary across categories and individual shoe styles. For example, the Levitate and Revel, both within the Energize category, offer different levels of of springy cushioning: max spring in the Levitate, more balanced in the Revel. What you choose is totally up to your preference, as each one delivers lab- and runner-tested performance for every mile of your run.

Still not sure if this shoe is the right experience for you?
Try our Shoe Finder
Cushion
Energize
Speed
Trail
Experience level
Experience level
Within any experience category, different shoes have varying levels of that experience: some may have a little less, while others have an amplified experience. For example, within Cushion, the Ghost offers soft, balanced cushioning whereas the Glycerin provides super-soft cushioning.
Light Trail
Mountain Trail
Ultra Trail
Support
Choose your support
Your body naturally likes to move in one way. Deviation is how much that movement changes when you go for a run.


Neutral
Low deviators may find that shoes designated "neutral" work best for them.
Support
Runners with high deviation benefit from Brooks' support technologies and may want to look for a shoe designated "support"
You may have deviation if:
You freqently get the same injury
You pronate or supinate
Toes point in or out when you walk
You feel unstable when you balance on one leg
Hand pressure increases or decreases when you squat with feet together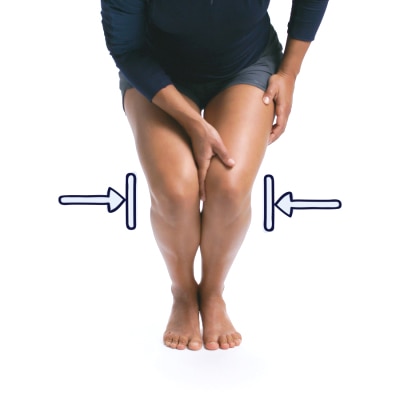 Still unsure? Take our 5 minute quiz:
Try our Shoe Finder
Neutral
Support
Max support
A smoother, lighter version of our iconic trail shoe.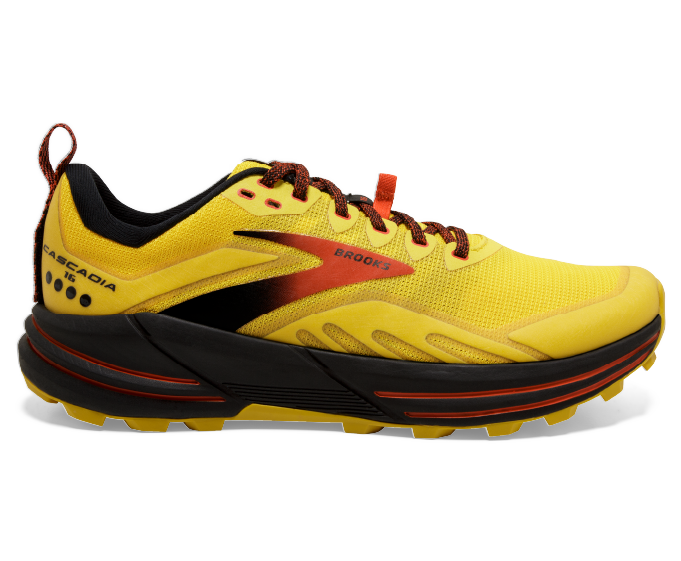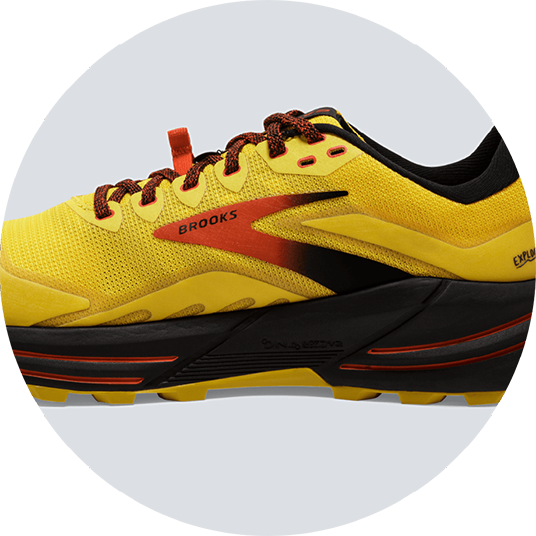 All-terrain comfort
Enhanced adaptability
New midsole and outsole construction lets the shoe mold easily to the ground, improving the stable ride.
More release grooves in the midsole promote extra adaptability on rough terrain.

TrailTack rubber outsole provides wet/dry traction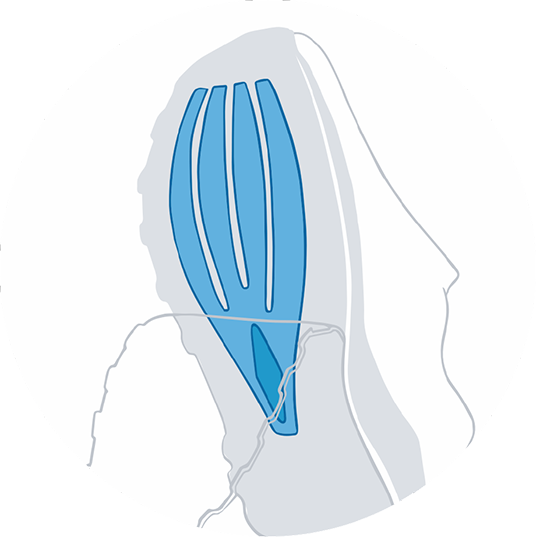 Rock solid foundation
Flexible protection
Updated Ballistic Rock Shield protects against pebbles and debris while also adapting more easily to uneven terrain.
Ballistic Rock Shield now includes vertical grooves to provide side-to-side adaptability.

Gaiter tab on heels secures gaiter for extra protection on the trail.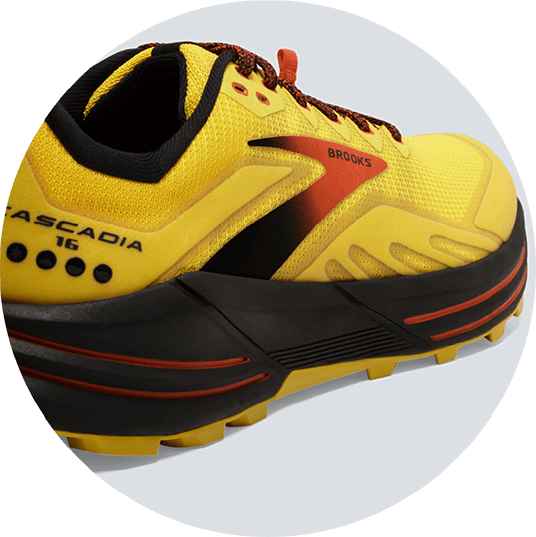 Softer, lighter feel
Soft cushioning
Our new DNA LOFT v2 midsole makes the Cascadia 16 cushioning 5% softer and 20% lighter than the Cascadia 15.
DNA LOFT v2 midsole is super soft yet durable.

Extra 2mm of cushioning adds softness.

Drainage ports allow water to escape quickly so nothing weighs you down.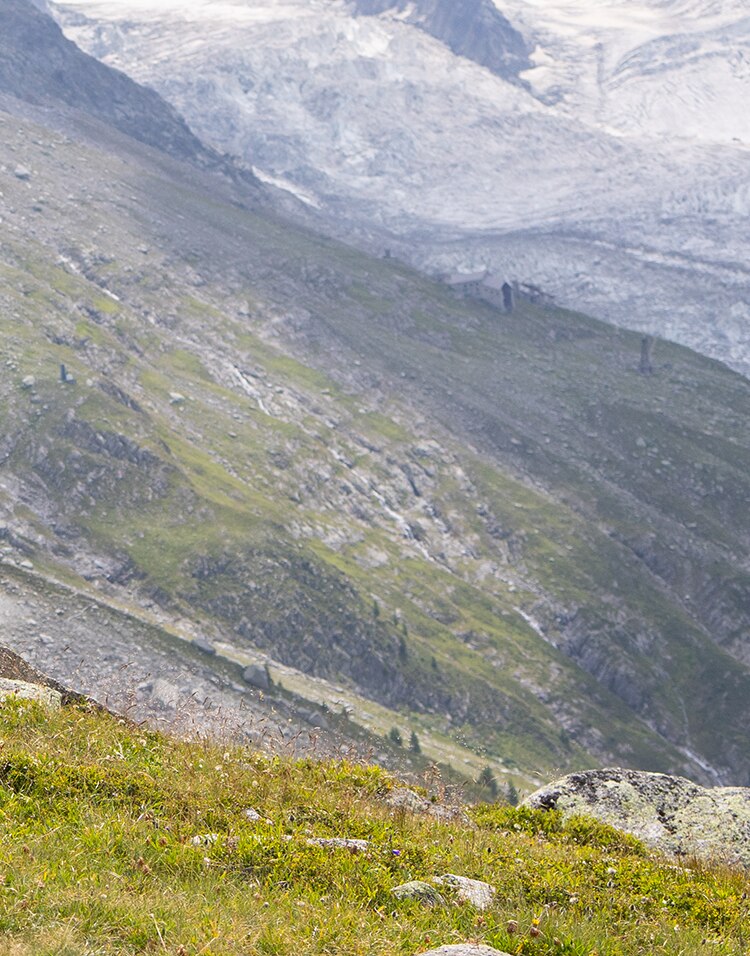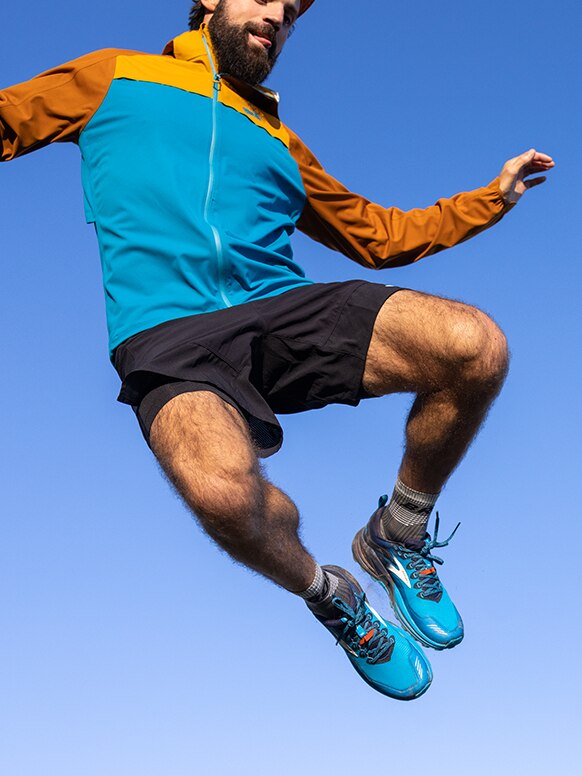 Built trail-runner tough
Take on any trail in the Cascadia 16 - the trail shoe built for runners who want to explore any path, while still feeling protected and stable on ever-changing terrain.
"This Cascadia has it all. It combines features of previous versions into a complete vehicle of runability. The comfort and versatility on all types of terrain is the best I've experienced!"
-Scott Jurek, Trail running legend