300641
Select Color
551 - Heliotrope/Magenta
We want all runners to love their gear. So take our gear for a 90-day test run. If you don't love it, return it for free. Really. Have more questions? Get all the details .
Free* standard shipping & returns, always.
Brooks Run Happy Promise
Our goal is to make each run better than the last. The gear we offer should improve your miles. So if you're not happy with a product, then we're not happy either.
90-day trial run — our guarantee
We think you'll love our products because thousands of other runners already do. So take our gear for a 90-day test run. If you don't love it, return it for free. Really.
Our return policy
If you buy gear from us today, you have 90 days to wear it all you want and still return it if you don't love it.

Free standard shipping
Free* standard shipping on all orders over € 75. Orders under €75 are charged a €5 shipping fee. Returns are always for free.
Preorder
Like to layer your look? The Drive Mesh Run Bra provides run-ready compression support with unique combo of high-neck and mesh bra layers.
Best for…
Confident style & fit
Training
Compression support
Features
Run-ready support
Removable cups
Confident style
Moves with me
Holds me in
Fit Type

Fit Type

Brooks running apparel is designed to move in harmony with your body. Most of our styles are semi-fitted, which means the gear follows the shape of your body but leaves some breathing room. Other styles are fitted: they hug your body and stretch to move with you. A small number of pieces in our line have a relaxed, but not baggy fit. Fit preference is totally personal!
Hand washing is ideal, but not always possible. Fasten all hooks and straps, place in a lingerie bag, and use the gentle or delicate cycle. Always line dry, and never use dryer sheets or fabric softeners—they can clog the fabric and shorten the life of the bra.
Standout style with outstanding support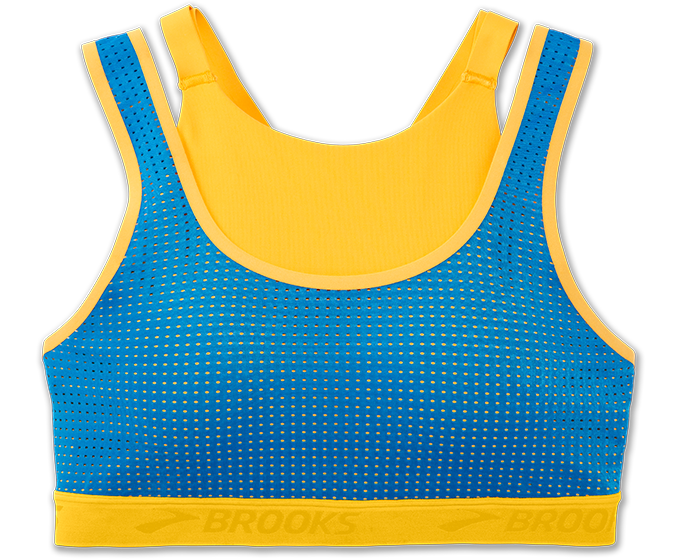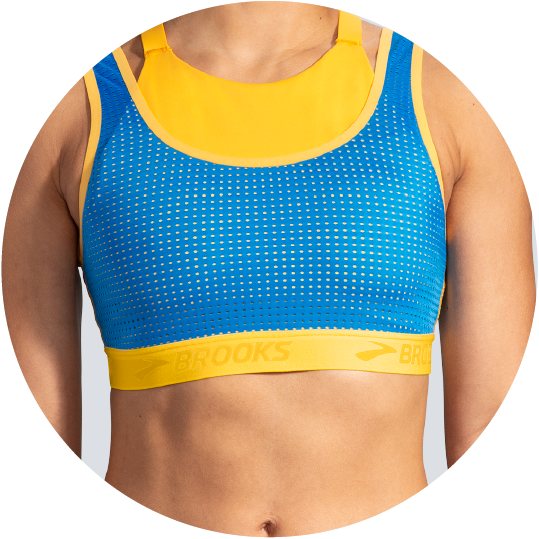 Run more. Bounce less.
Run-ready support
Run-ready compression support reduces motion without feeling too constricting, delivering confidence and security during your run.
The lab-proven design provides run-ready support for a wide range of sizes.

Testing ensures our bras deliver support specifically for running.

We also test bras with women like you — because lab data is only as good as its real-world application.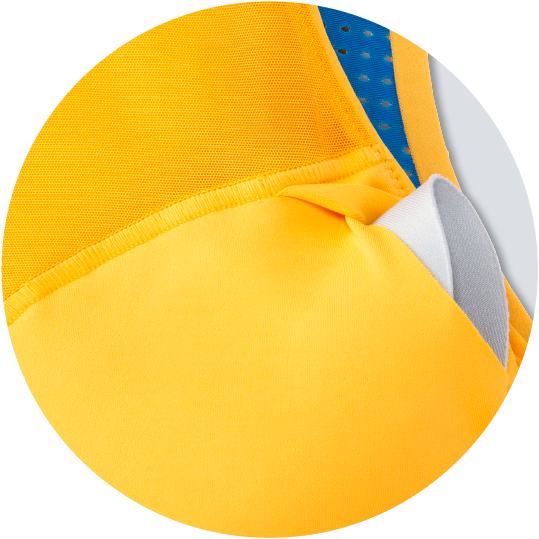 Padding? Up to you.
Removable cups
Wear it how you want. Envelope pockets keep removable cups secure for tailored shape and coverage.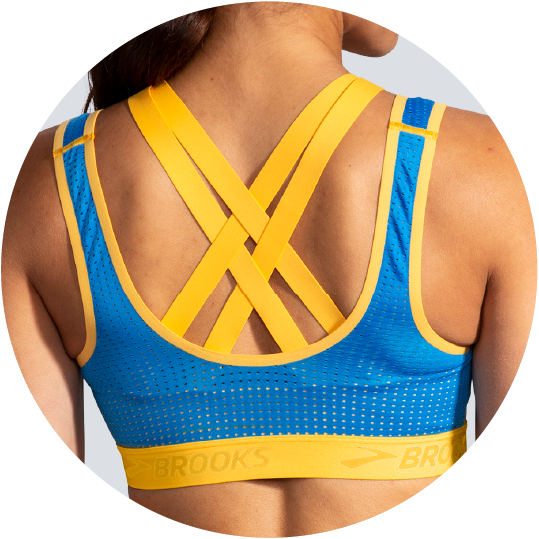 Stylish & secure
Confident style & fit
This bra does not sacrifice comfort and support for style. The standout design features a free-cut back with unique mesh overlay.
Features an elastic bottom band for more support.

Quick-drying DriLayer® HorsePower fabric keeps you dry and comfortable during runs.
Origin stories: Brooks Run Bras
In 2004, Brooks and leading sports bra company Moving Comfort joined forces to design bras just for runners. Since then, we've moved all our bras under the Brooks brand while focusing on creating bras with the perfect blend of motion reduction and comfort while running — work that resulted in our current Dare and Drive Run Bra collections.

We continue to use extensive runner interviews as well as biomechanics lab work to understand how women's bodies move while running.