110369

Select Color
SALE 310 - Green Gecko/Blue/Black
Free shipping and returns, always.
Free shipping & returns, always.
Brooks Run Happy Promise
Our goal is to make each run better than the last. The gear we offer should improve your miles. So if you're not happy with a product, then we're not happy either.
90-day trial run — our guarantee
We think you'll love our products because thousands of other runners already do. So take our gear for a 90-day test run. If you don't love it, return it for free. Really.
Our return policy
If you buy gear from us today, you have 90 days to wear it all you want and still return it if you don't love it — no shipping or re‐stocking fee. If your gear is unworn and still in original packaging, you have one year to return it to us.
Free standard shipping
All orders ship free with ground shipping. If you spend over $100, 2-day shipping is also on us. Shipping is always free for returns.
Preorder
Smoother and softer than ever, the Ghost continues to be one of our most-loved shoes. This men's running shoe takes advantage of our advanced cushioning technology, giving you a soft, smooth ride from start to finish.
Sustainability

Running Responsibly

We are committed to a long-term, science-based approach to sustainability. We know it's time to think bigger about the impact our products and their full life cycle have on people and the planet.

Percentage of recycled content

This metric refers to the percentage of material by weight that has been recycled from post- or pre-consumer sources.

Number of plastic bottles

Our roadmap to use recycled raw materials initially focuses on post-consumer sources, such as plastic bottles.
With help from our suppliers, we calculate the number of plastic bottles used to make a size medium of each product.
37 %
Recycled materials in the upper
4.1
Plastic bottles diverted from landfills
This product is carbon neutral.
Best for…
Soft landings
Everyday runs
Road running
Features
Soft cushioning
Smooth transitions
Improved fit
Experience
Experience type
All Brooks shoes have cushioning, but how it feels can vary across categories and individual shoe styles. For example, the Levitate and Revel, both within the Energize category, offer different levels of of springy cushioning: max spring in the Levitate, more balanced in the Revel. What you choose is totally up to your preference, as each one delivers lab- and runner-tested performance for every mile of your run.

Still not sure if this shoe is the right experience for you?
Try our Shoe Finder
Cushion
Energize
Speed
Trail
Experience level
Experience level
Within any experience category, different shoes have varying levels of that experience: some may have a little less, while others have an amplified experience. For example, within Cushion, the Ghost offers soft, balanced cushioning whereas the Glycerin provides super soft cushioning.
Support
Choose your support
Your body naturally likes to move in one way. Deviation is how much that movement changes when you go for a run.


Neutral
Low deviators may find that shoes designated "neutral" work best for them.
Support
Runners with high deviation benefit from Brooks' support technologies and may want to look for a shoe designated "support".
You may have deviation if:
You freqently get the same injury
You pronate or supinate
Toes point in or out when you walk
You feel unstable when you balance on one leg
Hand pressure increases or decreases when you squat with feet together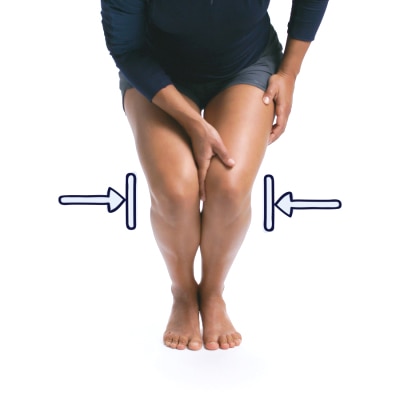 Still unsure? Take our 5 minute quiz:
Try our Shoe Finder
Neutral
Support
Max support
Soft, smooth, and ready for any run.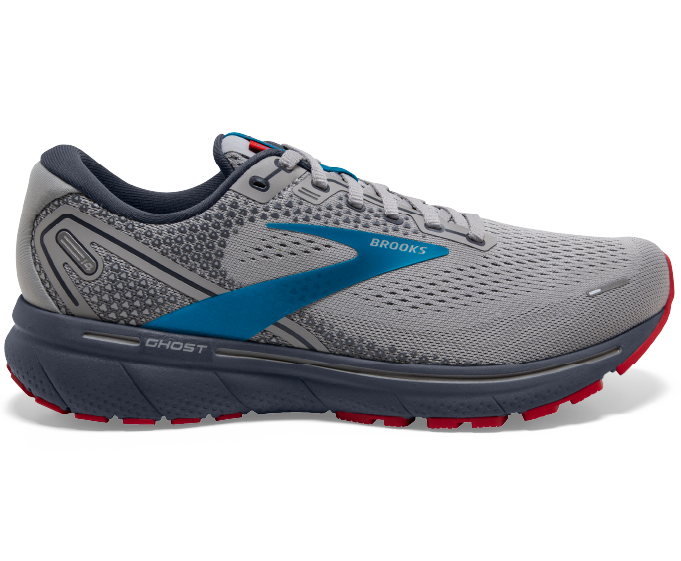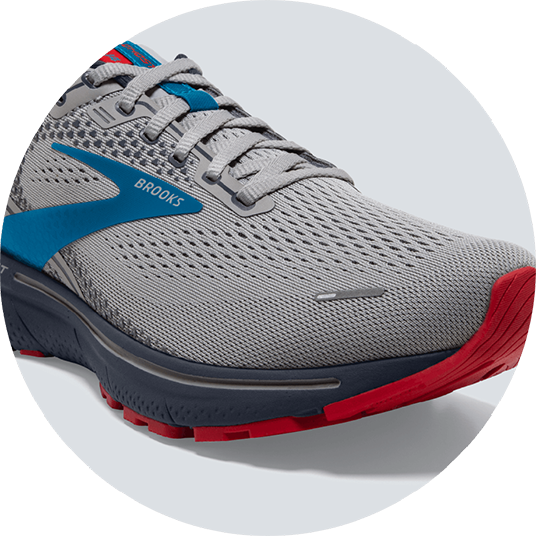 Underfoot comfort
Soft cushioning
Updated midsole is now 100% DNA LOFT cushioning for a soft, smooth ride.
DNA LOFT is a soft cushioning, yet remains durable and doesn't feel too squishy.

Our cushioning technologies all start with DNA because they react to your unique stride.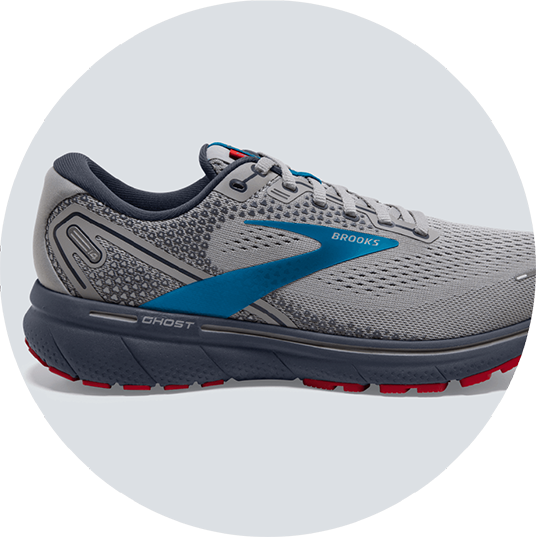 Find your flow
Smoother transitions
The new, soft midsole and Segmented Crash Pad team up for easier flow from landing to toe-off.
No matter how your foot strikes the ground, smooth transitions ensure comfort.

If we got it right, you shouldn't even notice transitions.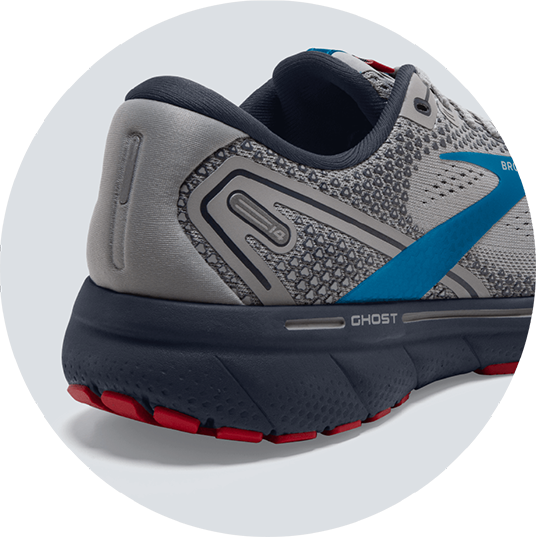 Adaptive comfort
Improved fit
Our 3D Fit Print upper balances stretch and structure so the shoe adjusts comfortably to your foot.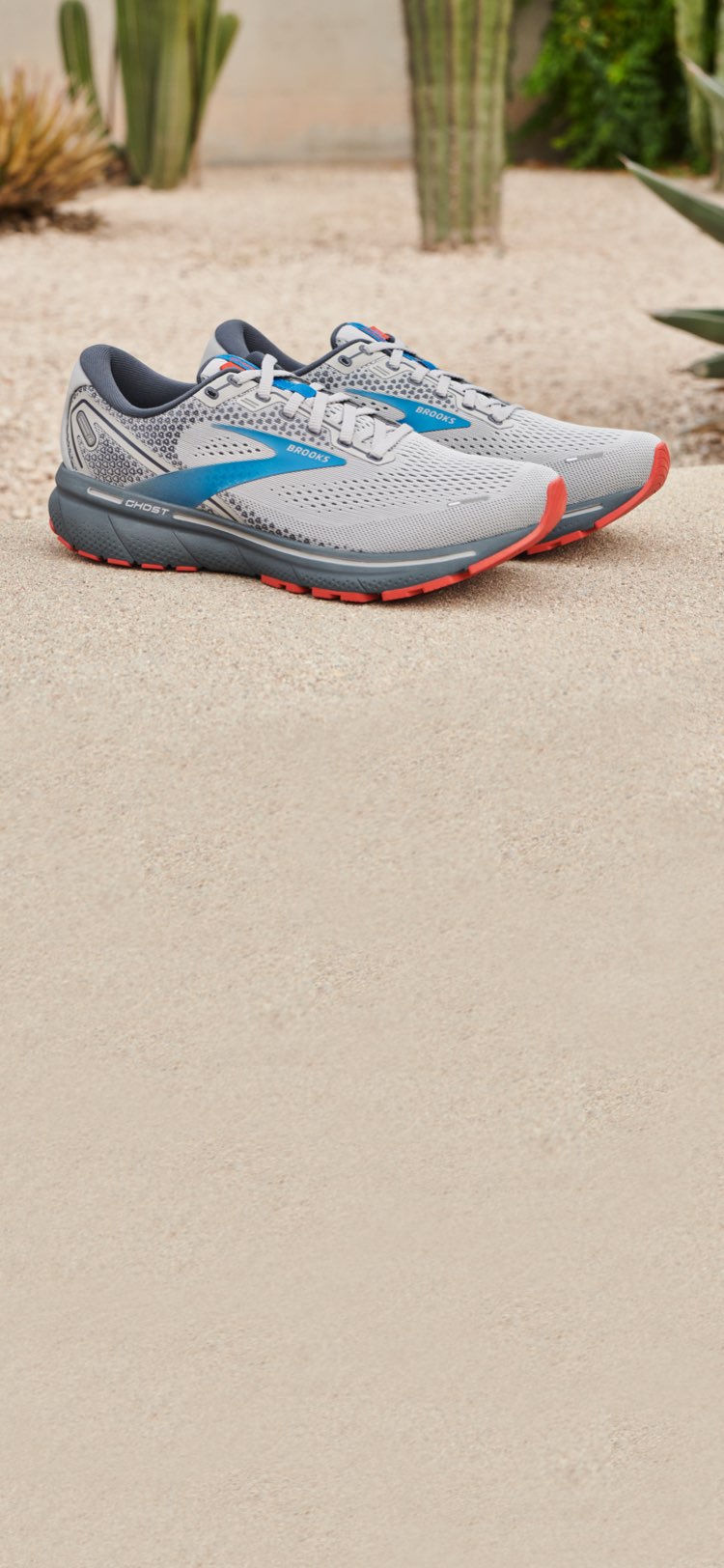 Ghost 14: Our first carbon neutral shoe.
Learn how we did it.

Reduced manufacturing waste
Less waste reduces carbon emissions by 1,908,447 kg CO2eq. - the equivalent of 4,972,411 hours of treadmill operation!

Recycled materials
Most upper materials are made with a minimum of 30% recycled content.

Carbon offsets
Our purchase of carbon offsets, combined with recycled materials and reduced waste, allows the Ghost 14 to be carbon neutral.
OUR PROMISE TO THE PLANET

Dig into the details
Get the full story on how we made the Ghost 14 carbon neutral.
READ MORE
Origin stories: the Ghost
We introduced the Ghost in 2008 with the goal of creating a go-to neutral shoe for runners. At the time, our director of product management was known for doing all his running workouts at night — and was therefore nicknamed "the Ghost," which eventually became the shoe's name.
Throughout the years, runners have loved the Ghost for its soft cushioning, smooth transitions, and its reliability as a daily trainer.