110328

Select Color
SALE 664 - High Risk Red/Ebony/Grey
Preorder
Discover your inner mountain goat. This updated men's trail shoe offers a plush feel with lightweight cushioning. Sticky traction helps keep you on your feet.
Best for…
Trail runs

Long or ultra runs

Traction
Features
Adapts to terrain
Soft cushioning
TrailTack Traction

Energize
Cushion Level
Cushion level
Standard Cushioning
Shoes with standard cushioning provide a just-right blend of softness and responsiveness that creates a comfortable platform for your run or walk.
More Cushioning
With more softness than our standard cushioning, shoes with more cushioning may be the right choice if you like your run or walk on the soft side.
Most Cushioning
If you're looking for maximum softness and enjoy features such as a plush feel under your feet and protection from impact, try shoes with the most cushioning.
Standard Cushioning

More Cushioning

Most Cushioning
Support level
Support Guide
Neutral
Brooks shoes that are designated "neutral" are designed to deliver comfort and durability for a neutral stride — one that doesn't need additional support. 
Support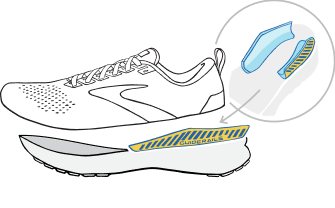 Brooks shoes with the "GTS" designation feature our Go-To-Support, which helps keep runners in their natural stride, even when they tire. Think of bumpers in a bowling lane!
Maximum Support
To provide maximum support, we pair our go-to-support (GTS) with additional features such as an extra wide base to enhance stability.
You may benefit from extra support if:
Your knees move inward or touch when you do a simple squat 
You frequently get the same injury
You pronate or supinate
Your toes point in or out when you walk
Neutral

Support

Maximum support