221492

Select Colour
SALE 070 - Black/Nightlife
Always free returns.
Free returns, always.
Brooks Run Happy Promise
Our goal is to make each run better than the last. The gear we offer should improve your miles. So if you're not happy with a product, then we're not happy either.

90-day trial run — our guarantee
We think you'll love our products because thousands of other runners already do. So take our gear for a 90-day test run. If you don't love it, return it for free. Really.

Our return policy
If you buy gear from us today, you have 90 days to wear it all you want and still return it if you don't love it — no shipping or re‐stocking fee. If your gear is unworn and still in original packaging, you have one year to return it to us.

Preorder
The Carbonite 4" Shorts keep you cool in warm weather and shine in the dark, for increased visibility to cars, bikes, or other runners. These women's running shorts with pockets also make storing your essentials easy.
Sustainability

Running Responsibly

We are committed to a long-term, science-based approach to sustainability. We know it's time to think bigger about the impact our products and their full life cycle have on people and the planet.

Percentage of recycled content

This metric refers to the percentage of material by weight that has been recycled from post- or pre-consumer sources.

Number of plastic bottles

Our roadmap to use recycled raw materials initially focuses on post-consumer sources, such as plastic bottles.
With help from our suppliers, we calculate the number of plastic bottles used to make a size medium of each product.
7
Plastic bottles diverted from landfills
Best for…
Running in the dark
Warm weather
Features
Visible in the dark
Built-in liner
Easy storage
Fit

Fit Type

Brooks running apparel is designed to move in harmony with your body. Most of our styles are semi-fitted, which means the gear follows the shape of your body, but leaves some breathing room. Other styles are fitted: they hug your body and stretch to move with you. A small number of pieces in our line have a relaxed, but not baggy fit. Fit preference is totally personal!
Do Not Use Fabric Softeners, Wash Darks Separately, Wash Separately Before Wearing
Let your legs shine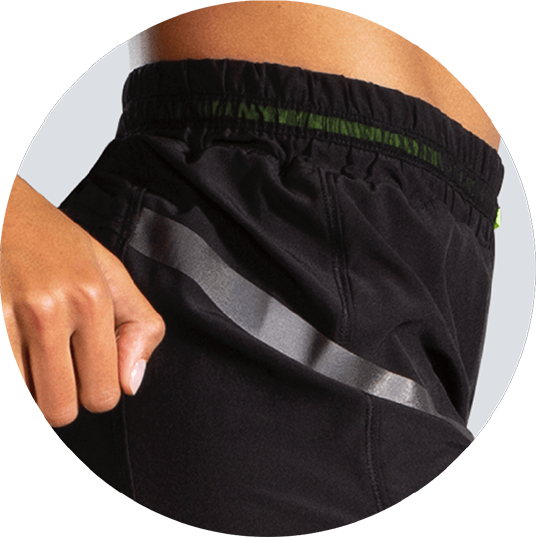 360° Visibility
Visible in the dark
3M™ Scotchlite™ Carbon Black Stretch reflectivity in critical motion zones helps drivers recognize you as a runner in motion from up to 600 ft. away.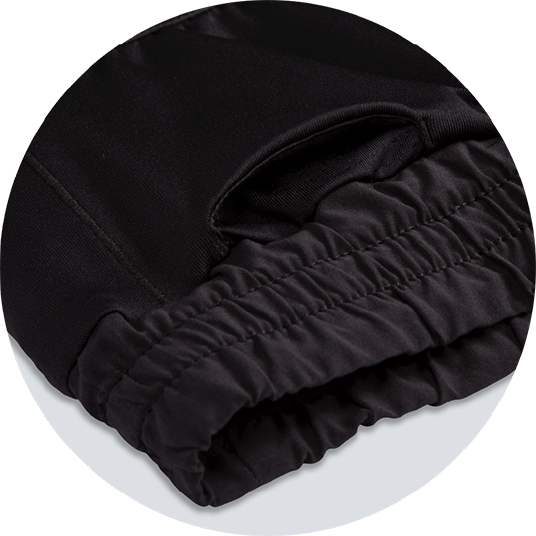 Start with a smooth foundation
Sweat-wicking liner
Enjoy added comfort thanks to the built-in, sweat-wicking mesh liner.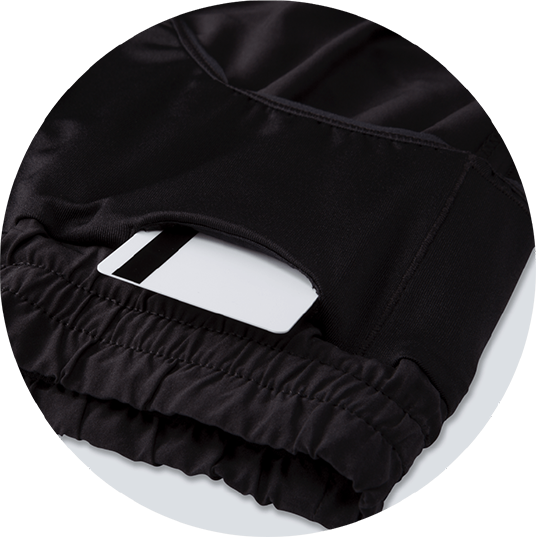 Let's talk pockets
Easy storage
Two drop-in liner pockets and a hidden zip pocket keep items secure.